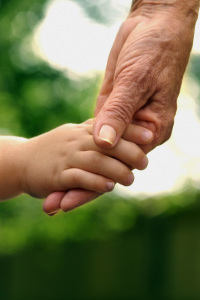 The Friends' VISION and MISSION focus on helping the children of abuse in East Hawaii and preventing child abuse in the future.
OUR VISION: To help abused and neglected children of today break the cycle of abuse tomorrow.
Did you know that 30%-40% of adult abusers were abused as children?
Research clearly shows that abuse can and is a learned behavior.  Children who are abused and receive no therapy, no assistance, no support from the community can often repeat the abuse when they become parents and adults.
The FRIENDS strive to help child victims of abuse with small but critical needs at crucial times in their lives.  We hope to restore their self worth and make them feel "normal."  And by normalizing their lives, we hope to direct them away from repeating the same abusive behavior.
OUR MISSION: To help sexually, physically, emotionally abused and neglected children.
We do this in partnership with the Children's Justice Center of East Hawaii, by providing funds and resources to support the needs of these children.  The "Friends" offer hope, encouragement, and opportunity for victims of child abuse.
In simpler words, our mission is to help abused children rebuild their lives by providing essential basic needs and enhancements that powerfully affect their well-being… "helping a victim be a child again. "