236 Teens Benefit from the Friends' Christmas Program
Toys for Tots remembers keiki at Christmas… but who remembers the teens?  The Friends do!  This year, the Friends funded 236 teens with $50 Gift Certificates… that totals $11,800!  "Teens, especially teens in Foster Care, can be forgotten in the holiday rush," said Robin Benedict, Program Coordinator.  "We are lucky to have a cadre of volunteer retired teachers who 'fix up' the cards every year," Robin concluded.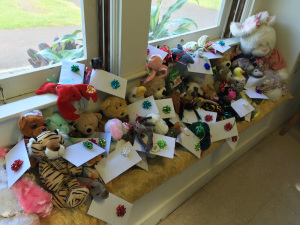 Harmony on Tap Benefit Concert a Success!
Harmony on Tap, a group of beautiful women with sweet sounding voices, presented a concert to benefit The Friends on November 20 and 21, 2015.  The Friends were happy to accept the finalized donation of over $3000 after the concert.
Rotary Club of Hilo donates to The Friends
Proceeds from the Club's annual Brewfest has brought in a donation of $13,200 for the work of the Friends.  The Friends are indeed grateful and plan to use most of the monies to support the needs of abused children in the Christmas Season.
Archives by Month:
Archives by Subject:
Archives by Year: