236 Teens Benefit from the Friends' Christmas Program
Toys for Tots remembers keiki at Christmas… but who remembers the teens?  The Friends do!  This year, the Friends funded 236 teens with $50 Gift Certificates… that totals $11,800!  "Teens, especially teens in Foster Care, can be forgotten in the holiday rush," said Robin Benedict, Program Coordinator.  "We are lucky to have a cadre of volunteer retired teachers who 'fix up' the cards every year," Robin concluded.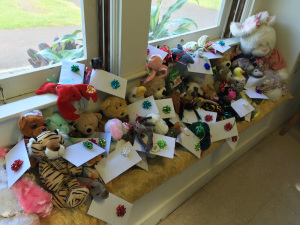 Harmony on Tap Benefit Concert a Success!
Harmony on Tap, a group of beautiful women with sweet sounding voices, presented a concert to benefit The Friends on November 20 and 21, 2015.  The Friends were happy to accept the finalized donation of over $3000 after the concert.
Rotary Club of Hilo donates to The Friends
Proceeds from the Club's annual Brewfest has brought in a donation of $13,200 for the work of the Friends.  The Friends are indeed grateful and plan to use most of the monies to support the needs of abused children in the Christmas Season.
Harmony on Tap Benefit Concert
Harmony On Tap (HOT) presents two performances to benefit the Friends of the Children's Justice Center of East Hawaii.   The two concerts will be offered Friday, November 20th and Saturday, November 21st, at the First United Protestant Church, on Waianuenue Ave., above Kaiser. Showtime is 7:30 pm with a $15.00 tax-deductible suggested donation.
(more…)
THE FRIENDS SELECTED AS BENEFICIARY OF WEINBERG FUNDING
The Friends of the Children's Justice Center of East Hawaii (FCJCEH) are proud to announce that the Kiwanis Club of East Hawaii has selected the Friends as the recipient of the Weinberg cash award for the Kiwanis Club's work at Keonepoko Elementary School in Pahoa.
Helping out at the 2015 Brewfest Helps the Friends
The Friends are proud and thrilled that the Rotary Club of Hilo has selected the Friends to be one of the beneficiaries of the Brewfest proceeds. (more…)
The Friends Help out at the Annual Charity Walk
Over 20 Friends and spouses were on hand at the May 9 Charity Walk to assist with a water station and the prize table. (more…)
The Friends Info Booth at the 2015 BSA Makahiki
David Kurohara, BSA District Chair, Leelen Park, BSA District Executive meet with Jon Countess, The Friends Board Secretary at this annual Boy Scout Makahiki held Saturday, April 18 in Hilo.  Both The Friends and The Boy Scouts share a major concern to educate boys and adults about Child Abuse and both have programs to promote preventive education.
Japanese Chamber donates new socks and underwear!
Gina Tanouye, representing the Japanese Chamber on Hawaii Island, (seen here on the right) stopped by the Center to present packages of new socks and underwear for the Friends' Clothes Closet.  Robin, our Program Coordinator seen on the left was pleased to receive so many donated packages!  Many thanks to the Japanese Chamber!
25th Anniversary Recognition Dinner
Sunday, Feb 15 at 5:30pm,
Hilo Hawaiian Moku Ola Room
Join us in celebrating our 25th Anniversary of the Children's Advocacy Center of East Hawai'i on Sunday, February 15 at 5:30pm in the Hilo Hawaiian Moku Ola Room. Three worthy individuals, Joe Hanley, the Friends initial Board President along with Jane Webb and Ann Roney, our first hard working volunteers, will be honored for their enthusiasm and dedication. (more…)
Archives by Month:
Archives by Subject:
Archives by Year: